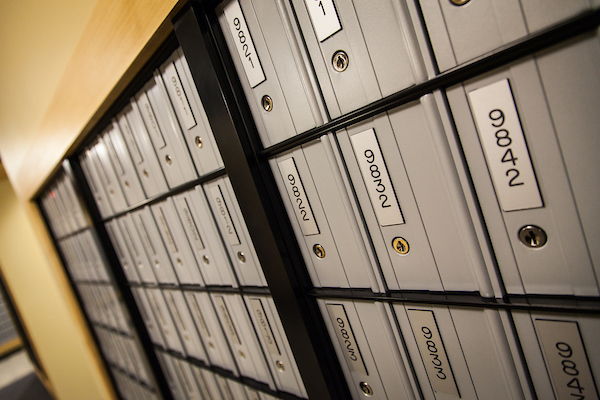 Required address format for incoming mail:
John Doe
1834 Wake Forest Road
Box/Unit Number
Winston-Salem, NC 27109
Delivery Information
USPS, FedEx, and UPS mail are delivered several times a day. Several companies handle Express Mail, so it may not be delivered on time. The first delivery is at 8:00 AM, several deliveries are made throughout the day until 3:00 PM. Mail Services receives mail addressed to all students, faculty, and staff with a 27109 ZIP code.
Incoming mail addressed to the University must bear the correct name, street address, post office box number, city, state, and ZIP code on each piece. USPS mail received by Mail Services with an incorrect name (a name other than a student, faculty, or staff member) or a vague or incorrect address (including missing a PO Box number) could result in a delay of your mail or have your mail considered "Undeliverable As Addressed" and returned to the sender for proper addressing. It is very important to notify people who send you mail of your correct address. If you have questions concerning your campus address, contact Mail Services for assistance.
Departmental Mail
All departmental mail is separated and sorted into the proper boxes for delivery. Except for unusually high volume days, such as Mondays and after a University or USPS holiday, all mail received by 8:00 AM is delivered the same day.
Packages
Packages not picked up within 30 business days will be returned to sender. There will be 3 attempts to notify students of package delivery. Flowers not picked up within a week will be discarded.
Note to Students: Although you may receive a USPS confirmation that your package has been delivered, this notification only confirms delivery to a nearby post office. The package will still need to be transferred to the WFU Campus, received, and processed by our Mail Services Department. To make your experience as efficient as possible, please wait to receive an email confirmation from WFU Mail Services that indicates that your package has been processed.
Parcel Lockers
Parcel lockers will supplement package pick-up at the Mail Service's Lobby and improve the package delivery experience for students by accommodating students' busy schedules. At the same time, the lockers will introduce new technology to the Mail Services staff that improves the efficiency of processing packages. Parcel Lockers are located on the first floor of the Benson Center and will be accessible during Benson Center hours.
Package notification messages from Mail Services will indicate if you have a package at the Lobby or inside a parcel locker. Package slips will no longer be placed inside PO Boxes. Based on your email message, proceed to either the lockers or lobby
Locker Instructions
Proceed to the locker kiosk
Scan barcode from your mobile phone
Sign for the package on the kiosk
Locker will open
Retrieve package from the locker
Please look inside the locker because there may be more than one package
Close locker door
Lobby Instructions
Swipe your ID at the counter
Staff will bring your package to the counter
Sign for your package
Faculty, Staff and Student Packages
To make your experience as efficient as possible, please wait to receive an email confirmation from WFU Mail Services that indicates that your package has been processed internally
As you prepare to come to campus, we ask that you minimize the number of items shipped to campus to avoid crowding and long lines in our mail-room. The Benson Center will have capacity limits that may increase the time it may take to connect you with your package(s). We recommend you bring what you need with you as you travel to campus for move-in.